Mikado, Blushware, Flow Blue, Barge, Temple, Bell, Chinaland, Red Devil, Orchid, Tutankhamen, Chinese Bird, Persian Garden, ... List & Search Patterns

Foxglove, Fruit Basket, Daisy, Redcurrant, Oak, Buttercup, Blackberry, Orchid, Orbit, Windswept, Walking Ware, ... List & Search Shapes

A BRIEF HISTORY

Carlton Ware began life in 1890 ...... read more history

DATING CARLTON WARE

To help date Carlton Ware you can look at the back-stamp ...... read more

Sometimes the pattern number helps to date ...... read more

Alternatively you can look at the impressed number ...... read more

Designs were usually registered and the Registered Design Number ...... read more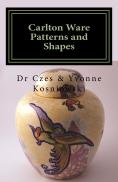 Carlton Ware Patterns and Shapes
Carlton Ware Patterns and Shapes by Dr C & Y Kosniowski provides a comprehensive list Carlton Ware Patterns and shapes. The lists are numberic and alphabetic. No pictures are included. The book is available in printed format or as an eBook from Amazon. The eBook will run on Kindles, PCs, iPads, iPhones, Smart Phones, ...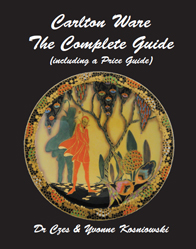 Carlton Ware
The Complete Guide
including a Price Guide
This book is a comprehensive guide to Carlton Ware with hundreds of photographs of this beautiful pottery.
It covers all aspects of Carlton Ware. The chequered and colourful history of the company is outlined, from its conception in 1890 to the current day, along with information about the owners and designers who were influential in shaping its future.
Carlton Ware were always striving to be at the forefront of current trends and innovative designs in a very competitive market. They produced an enormous variety of decorative ceramics, with an originality that captivated the mood of each era succinctly whilst holding sacred their reputation for quality.
Included are over 700 images of Carlton Ware, each with a valuation. A full list of patterns and shapes is provided together with a price guide.
A unique feature of this book is the inclusion of historical archived material. This includes advertisements, old "salesman literature", photographs of original sketches of Carlton Ware shapes and finally some photographs of the original patterns beautifully illustrated by the designers.
This book is a must for everyone who appreciates beautiful ceramics.
The book size is 276mm x 216mm (approx A4), Hard Cover with a beautiful Dust Cover, 272 pages. ISBN 978-0-9549558-2-3






NEW BOOK: Carlton Ware - The Complete Guide (including a Price Guide) by Dr C & Y Kosniowski.



Read some comments about "Carlton Ware - The Complete Guide" by Dr C & Y Kosniowski":










A pocket guide to Carlton Ware by Dr C & Y Kosniowski":